As someone who has worked in retail since she first got a job- I know a little somethin' somethin' about Black Friday.
Ready for this...the deal you get on Black Friday is one that the store most likely offers throughout the year. Not only does the store you are shopping at offer their "special" black friday discount throughout the year, they also probably have better combinable coupons throughout the year.
With this all being said, I am going Black Friday shopping this year rather than working since I will be 12 hours away from my workplace. Cue the "You.Are.A.Hypocrite!" comments now, in which I would respond with ,"I love the excitement of Black Friday." I actually love working this crazy holiday, but since this isn't possible I will do the next best thing and shop (oh poor me, you have to shop all day rather than work, wahhh!)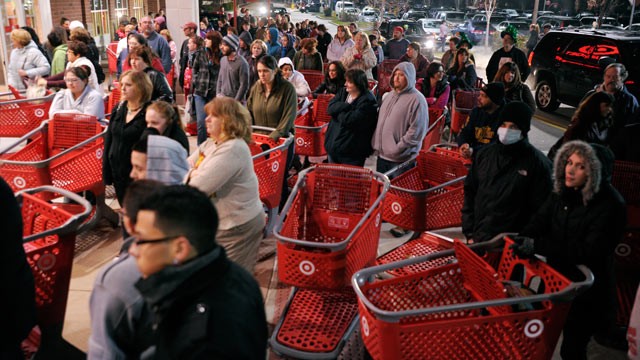 Doesn't this look like fun, ha!
Black Friday is a fun time of year, you kick of Christmas shopping or wrap it up, you spend time with your family laughing and having a good time, and you burn off some of the calories from the day before. Which is all good an well, but if you think you are getting this incredible deal and hate having to go out Black Friday shopping DON'T, because you can get these deal many times throughout the year you just have to watch for it.

Now I am going to shamelessly plug

Aerie

(since it is my place of work). I can't release what our sales will be just yet, but I will give you a heads up that there will be some door busters from 12pm-6am (some stores are opening earlier, so if your interested check your local store!) I won't completely spill what our gifts will be, but I will say that I LOVE them BOTH! (hint, hint there are 2!)
As for me Josh and I will be joining his family for the first time in the annual Black Friday Shopping trip to the outlets. We didn't come up with some elaborate list of things we need to get or people we must buy for. I think we are just going along for the ride and hopefully finding some deals.
Last I want to leave you with the best sales to make sure you don't miss...
If I have my facts incorrect, PLEASE feel free to correct me!
Old Navy

- 50% off Thursdays 7pm-ALL day Friday
Bath&Body Works

- Will be giving away a VIP bag (They did something similar last year)
Aeropostale

- 60% off all day Friday
Vera Bradley

- Free Holiday Tote (which is so incredibly adorable) with a purchase of $100 or more. This tote retails at $42 and is in the Canterberry Magenta pattern.
And guys I know everyone in the world hates Wal-Mart, but just for fun I looked at their ad and it is insane how cheap they can sell things. I urge you to not take the the risk of heading out to Wal-Mart on Black Friday (people have died!), but look at the ad and decide for yourself.
What big sales do you know about? What are you planning on buying?
What do you think about stores opening up on Thanksgiving?